When I was invited to a blogger event on board the MSC Cruises ship MSC Meraviglia, I was intrigued. For some time now, I'd heard really positive comments about MSC Cruises ships from fellow passengers, bloggers and people who work in the cruise industry. So I jumped at the opportunity to see one of their newest and biggest ships – MSC Meraviglia – in my hometown of Southampton.
Cover image: MSC Meraviglia in Southampton. Photo credit – Andrew McAlpine
Launched in 2017, MSC Meraviglia (which means 'wonder' in Italian and is pronounced with a silent 'g') has a GRT of 171,598, a length of 315 metres and an average speed of 22 knots. She carries up to 5,714 guests of differing nationalities (but mainly Europeans). The ship is currently one of the largest in the world and she is the largest vessel in the MSC Cruises fleet.
About MSC Cruises
The Swiss-based Italian company have grown quickly and are now the largest privately owned cruise line in the world. They have an expansion programme which will see the construction of 13 new next-generation ships up until 2026, including the mega cruise ship MSC Grandiosa. In 2019, MSC Cruises will name their second Meraviglia-class ship – MSC Bellissima – in Southampton. She will be the largest cruise ship to ever be named in the city.
MSC Meraviglia – Infinity Atrium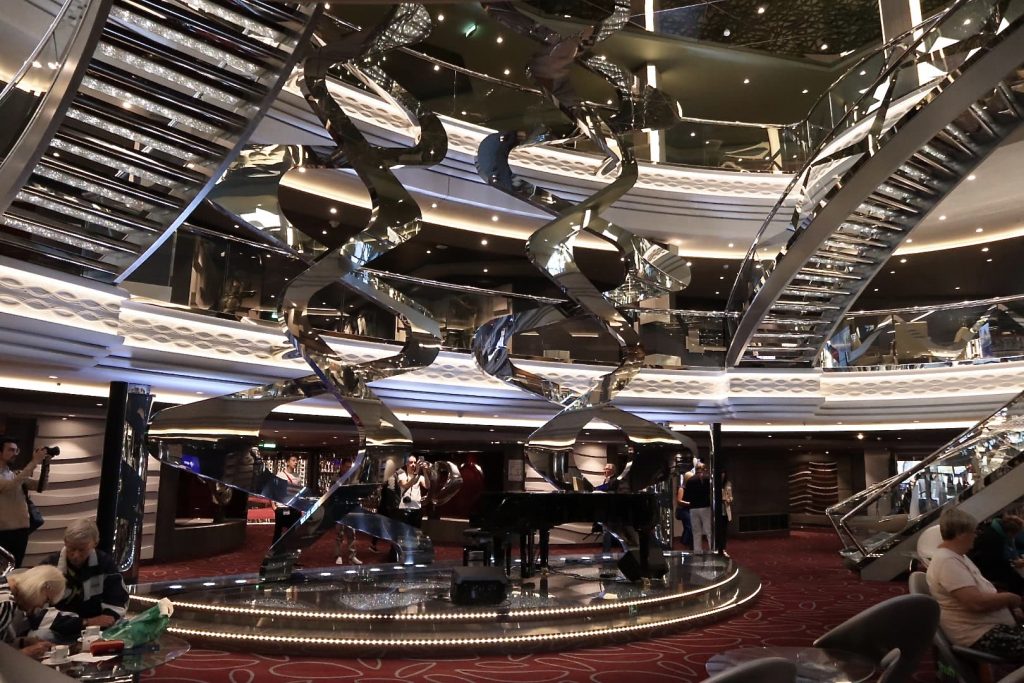 After meeting my fellow cruise bloggers in the QEII Terminal in Southampton, we boarded the ship and immediately walked into her glitzy atrium. MSC ships are well known for the Swarovski crystals imbedded into the stairs in their atriums. I'd always thought these might be a bit tacky, but I was wrong. The stairs were elegant, attractive and very sparkly. Each step was worth a staggering €15,000! The multi-deck Infinity Atrium featured chrome surfaces centred around a large mirrored sculpture, plush red carpet and scattered seating areas. Like most cruise ship atriums, it had a number of facilities including bars, the excursions and reception desks, photo gallery and shops.
Galleria Meraviglia
At the top of the atrium stairs on Deck 6 stands the Galleria Meraviglia, home to the largest LED dome at sea. This was a light, airy space illuminated by the images on the 80-metre LED ceiling, which changed throughout the day. I really liked this area and, although it was similar to Royal Caribbean's Royal Promenade, it didn't feel Americanised and it had a real grown-up feel to it. It is worth mentioning that the ship was very quiet during our visit as many guests were ashore. So it would be interesting to see how busy the Galleria gets when the ship is at sea.
The Galleria spans two decks. On Deck 6 there are a number of shops, an ice cream parlour, select dining restaurants and bars. The highlight is the magnificent Jean-Philippe Chocolate and Coffee Shop, which displays an incredible array of handmade chocolate figures along with a mechanical chocolate sculpture. At the end of our tour we sampled some of the handmade chocolates and macaroons available for purchase, which were delicious.
On the upper tier of the Galleria (Deck 7) there are more select dining restaurants, including Kaito Teppanyaki Restaurant and Sushi Bar and Butcher's Cut. It's also the location for the Brass Anchor Pub, the Champagne Bar, TV Studio and Bar and a small library.
Entertainment
MSC Cruises have a contract with Cirque du Soleil and on MSC Meraviglia guests are treated to two new shows – Sonor and Viaggio – in the Carousel Lounge on Deck 7. At the moment Cirque du Soleil is exclusive to this ship, but it will be rolled out on all Meraviglia-class ships when they launch. Show capacity is capped at 450 guests and tickets cost around €35. Guests can purchase a dinner and a show package, or cocktail and a show package. The rear of the lounge has panoramic floor-to-ceiling windows overlooking the aft end of the ship.
The 985 seat Broadway Theatre can be found at the bow of the ship on decks 5 and 6. Unusually for a theatre on a cruise ship, the interior felt bright and, although the décor was quite simple, there was ample space for performances. The ship shows six different 40-minute shows a cruise.
Entertainment doesn't stop in the theatre. As well as the high-tech TV Studio and Bar (think karaoke, live music and comedy club) and the Attic Nightclub, the ship has a host of other exciting activities to keep guests amused.
Near the children's facilities there is a large undercover Sportplex amusement park and sports court, Formula One simulators, 4D cinema and a full-size bowling alley! All of these, apart from the Sportplex, incur an additional fee. The ship also has a large casino on Deck 7.
Pool areas
One thing I really liked about the ship was the way the pool areas were divided into sections. The lively Polar Aquapark is tucked away at the aft end of the ship on Deck 19. This fun activity area appeals to all ages, and boasts a twisting array of flumes, splash pools and a Himalayan rope bridge. Its location means it doesn't affect the quieter pool areas elsewhere on the ship. Below on Deck 16 is the small Horizon Pool and outdoor Horizon Amphitheatre.
The Atmosphere Pool is the main pool area located on Deck 15. It actually consists of two pools, which are connected together and it has built in sunbeds around the pool edge. I liked the number of shady sunbathing areas, something I use a lot. It was very quiet during our visit but I imagine this area can get very busy. A giant cinema screen stands at one end and sunbeds were well spaced around the deck.
Nearby there are a couple of bars and an ice cream parlour. MSC's famous 'White' parties are held around the Atmosphere Pool each cruise.
The Bamboo Pool lies towards the forward end of the ship on Deck 15. This lovely area had a tropical feel about it and it was very family-friendly. When we were there the retractable roof was closed, giving the area an indoor feel. Guests using the swimming pool and hot tubs can use the Bamboo Bar on Deck 15. A Solarium can be found close by on the upper level overlooking the pool. Guests can relax in one of two hot tubs with sea views, or they can take part in activities like table tennis. There were lots of comfortable sunbeds in the Solarium, which faced out towards the sea.
Aurea Spa and Gym
I didn't look in the spa, but it is the largest of its kind on any MSC ship. It has a vast thermal suite with a number of features such as a snow grotto, two thalassotherapy pools and a salt room. Guests can indulge in Balinese or Thai treatments, or they can relax in the adjoining beauty salon.
The fitness suite on Deck 16 was as state-of-the-art as any I'd seen on a large cruise ship. It had your usual cardio machines, weights and a separate spinning room. There is a fee for fitness classes. In addition to the gym, guests can use an outdoor running track.
Bars, lounges and restaurants
Guests can choose between two types of dining options. Classic Dining takes place over two sittings and takes on the more traditional form of fixed dining. Flexi Dining allows guests to book a time slot giving them more choice over when to eat.
Main restaurants
MSC Meraviglia has numerous dining venues, but there are four main restaurants. We had a look in L'Olive Doree and L'Olivo D'Oro on Deck 6 which had a superb wine display in the entrance area. The restaurants had gold and olive tones throughout. The other two main dining rooms are Panorama and Waves. The latter offers fixed dining and it is the only restaurant which serves breakfast in the morning.
The Yacht Club
Food is European in style and you'll see many Italian influences like pasta and pizza. We had lunch in the Yacht Club restaurant (only accessible to Yacht Club guests) and I am pretty sure the menu was the same as the one in the main restaurants. Understandably it was written in multiple languages. There were vegetarian options alongside meat and fish dishes. The menu also had a selection of dishes which were always available. I opted for a mushroom soup, tomato pasta and dark chocolate cake, which were all very nice. The Yacht Club restaurant was lovely and afforded views over the bow of the ship. We also had a drink the in the Yacht Club lounge which was tastefully decorated with a relaxed atmosphere. There were inclusive buffet bites available for guests.
Marketplace Buffet
MSC Meraviglia's buffet is situated at the aft end of the ship on Deck 15. It is made up of several different food stations and it reminded me of Windjammer's on Independence of the Seas. The food looked nice enough and there was plenty of choice. I only had a quick look around but I did notice a salad bar, pizza station, cold meat counter and grill. Seating was plentiful and the restaurant felt well spaced out. There were sinks to wash your hands in, which is a feature I like on cruise ships.
Kaito Teppanyaki Restaurant and Sushi Bar
This colourful restaurant is hard to miss with its bright orange and black décor. Whilst the sushi bar isn't a new concept, the Teppanyaki restaurant is new to MSC Cruises ships. Guests can choose from three fixed dining menu options (ranging in price) and they get to see their food cooked in front of them. Having eaten at a Teppanyaki restaurant before, I can see why more and more cruise lines are choosing to include these restaurants in their new ship designs. It makes dining more of an event and there's something reassuring about seeing your food be cooked in front of you.
Eataly
Situated on the bottom tier of the Galleria, Eataly offers a selection of cold dishes such as seafood and cured meats, which are charged per item. Alternatively guests can pay for a fixed price dining experience. Higher end dining experiences are available at Eataly, but I don't have any further details of them at this time.
Butcher's Cut
This is MSC's version of an American steakhouse and, by all accounts, it's very good. The restaurant has a selection of New World wines and cocktails to accompany main courses.
I've already mentioned a few of the bars briefly, but I thought it would be worth highlighting the following:
Brass Anchor Pub
This British Pub is located next to the Teppanyaki Restaurant on Deck 7. The décor reminded me of Arcadia's Rising Sun pub with traditional bar stools, booths and a wood effect and green colour scheme. There are a number of beers on tap along with a selection of bottled craft beer from around the world. Bars snacks are available.
Meraviglia Bar and Lounge
Situated close to the theatre, this lounge does get busy in the evening but it's a great stop for a drink before a show.
Sky Lounge
This is the perfect pre or post dinner drink spot. Its windows overlook the pool deck so you get a nice view wherever you are in the bar. In the evenings there is live music to entertain guests.
Edge Cocktail Bar
This bar overlooks the atrium on Deck 6. We walked past it on our tour and there were several guests using it as a daytime venue. If you like to people watch, then this is the bar for you!
Kids Clubs
Kids will love MSC Meraviglia as she has plenty to entertain all ages. Children aged 1-3 can visit the Baby Club, which is designed in partnership with popular baby brand Chicco. Inside you'll find a variety of colourful toys and activities to entertain little ones.
Children between the ages of 3 and 11 can go to the Mini and Juniors clubs. MSC have a partnership with LEGO, so you'll find a host of LEGO related activities and objects in this part of the ship. Each cruise there is a dedicated LEGO day.
There are two clubs for teenagers, and the ages are split into two categories: 12-14 and 15-17. There is a dedicated teen only area.
Cabins
We didn't have a look at any cabins, but MSC Meraviglia has 10 different type of cabin and 75% of these have balconies. Grades of cabin are: Cabins for Families (sleeping up to 9 people), Balcony, Ocean View, Interior and Interior Studio.
There are 95 suites, but only Yacht Club suite guests have access to exclusive areas of the ship that aren't open to anyone else. The Yacht Club areas include a lounge and restaurant (with access to buffet snacks and unlimited drinks), a pool, solarium, free entry to the thermal suite and exclusive sun deck access, located at the forward end of the ship. Whilst their prime location may seem controversial, I liked that fact that suite guests get something extra special which is something we didn't feel we got with our suite on Britannia. In my view, it makes paying that bit extra for your cabin all the more worthwhile.
Useful MSC Cruises facts
MSC Cruises charge gratuities at a rate of €10 a night (adults over the age of 12) and there is a 15% service charge on top of bar bills and spa treatments, unless you have a pre-paid drinks package
The cruise line offer different drinks packages. You'll find a full list of them here
The two main dress codes are elegant and smart casual. Dressing in formalwear isn't essential but is optional
Room service is available and items start from €3
Announcements are made in many different languages. Guests are predominantly Italian, Spanish, British, Portuguese, French and German
Children in the kids clubs will be mixed nationalities, so keep in mind the fact that not all children will speak English
The currency on board is the Euro
The ship does not have self-service launderettes
There are three types of Wi-Fi package available
The ship uses MSC's new MSC for Me interactive app. There are also interactive screens around the ship which make finding your way around much easier
MSC Meraviglia is based out of the Mediterranean for much of the year. She will sail out of Florida in 2019
I can honestly say that I was really impressed with my visit on board MSC Meraviglia. I really didn't know what to expect before boarding, but it's safe to say I would holiday with MSC Cruises in the future. The ship is elegant, contemporary and stylish, with a very grown-up feel, yet she still retains a family-friendly atmosphere. I was very keen to find out about the kids facilities on board, as our little one is due to arrive towards the end of the year. As we move into family cruising, I'm keen to find the right family-friendly cruise line that suits our needs. I definitely think MSC Cruises is a strong contender and I'd been keen to try them after our baby is born.
If you are looking for a ship that has plenty to offer adults as well as children then MSC Meraviglia is a great option. Or, if you want a unique and extra special suite experience, then a cruise on this ship will definitely offer you something more elite. I'll be keeping an eager eye on the development of MSC Bellissima and I look forward to reading all about her naming ceremony in Southampton next year.
You can find out more about the ship via the MSC Cruises website here. Alternatively you can read more of my ship reviews via this link.
I have now been shortlisted as Favourite Cruise Blogger for the World of Cruising Wave Awards 2019. Thanks to everyone who voted for me in the first stage of the nominations. Voting now starts again from scratch and I would really love the chance to become a finalist. If you like this blog and have a few minutes to spare, please considering voting for me here.
Follow me on social media