I had a couple of preconceptions before boarding the Fred. Olsen Cruise Lines flagship Balmoral this month. I'd heard that Fred. Olsen ships looked dated and their passenger base was a lot older than many of the other larger cruise lines. I hadn't been on one of their ships before, so this was a first for me. Having sailed with P&O Cruises for most of my life, I was very keen to see how Fred. Olsen compared to, what I consider to be, 'the other' cruise line aimed at the British market.
Balmoral had an extensive multi-million pound refurbishment in December 2017, so I was intrigued to see the results of her refit. Stepping on board, I found her to be a really warm and friendly little ship (little by my standards). At 43,537 tonnes, she carries 1350 passengers and over 500 crew. She is the largest vessel in the four ship Fred. Olsen fleet, and she has an extremely loyal following. On a regular cruise at least 50% of her passenger base are repeat cruisers, with this percentage rising on longer itineraries. Her passengers are predominately British and she carries crew from 28 different countries. Balmoral boasts 710 rooms and suites, multiple bars and lounges and two new speciality restaurants post-refit (alongside her original dining outlets). Oh, and she has a unique Scottish theme running throughout in homage to her royal namesake.
Here are a few highlights from my ship visit:
Atrium
There is a warm gold, orange and red theme in the atrium on decks 6 and 7. The area is much smaller than the atriums I am used to, but it is very pleasant all the same. There is a small shopping arcade which is operated by Harding Brothers, where you can buy your usual ship souvenirs and cosmetics. Nearby there is a seating area with a fabulous model of the ship. On deck 6 you'll find the main guest services desk, shore excursions, a photo gallery and art gallery.
Dining
Balmoral has a number of dining options. These include two new select dining restaurants, which were opened after her latest refit. The first sits at the aft end of Palms Café, serving as a café/poolside eatery in the day and a select dining venue in the evening. It has glass doors which are pulled open when the weather is nice, giving passengers a unique indoor/outdoor dining experience.
The second new restaurant, The Grill, is one deck above on deck 8. This was being refurbished during our visit, but it features a lovely parquet floor with sumptuous white seating.
Palms Café is the ship's main buffet area at the aft end of deck 7. This might sound strange, but it doesn't feel like the buffet restaurants I am used to. It was set out more like a formal restaurant, with a buffet section in the middle, which I really liked.
There are three main restaurants: Ballindalloch, Spey and Avon. The latter two offer the main dining menu but in a more intimate setting than the larger Ballindalloch. These restaurants also have a buffet area/salad bar serving the same main dining menu options, for those wanting a buffet in a formal restaurant setting. This means that Palms Café doesn't need to be any bigger, as there are several buffet locations available. I thought this was a really good concept that I haven't seen on other cruise lines yet.
The Bookmark Café is a great place to relax with a novel, sample some handmade truffles or enjoy a speciality cup of tea. This is definitely where I would spend my time on a sea day, as the seating options are plentiful and there is also a library attached.
Cabins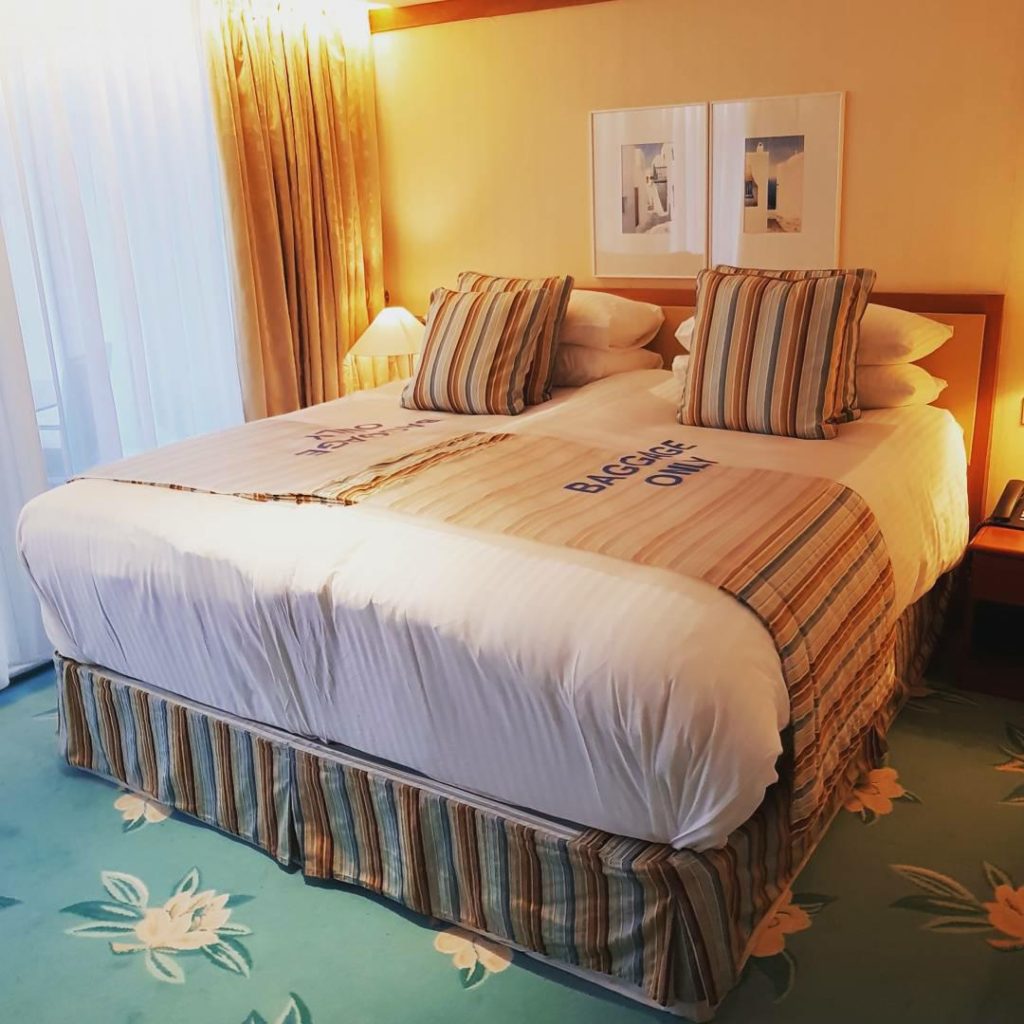 The suites were lovely. I understand there are around 90 suites, which is a really large number by any ship's standards. You have the option of booking an owner's suite, premier suite, Marquee suite, superior suite, balcony junior suite or single balcony suite. I saw the owner's suite which features a full dining table, dressing area, bathroom with bath, balcony, bedroom and lounge. There are also some great modern touches like Nespresso machines and interactive TVs. I also had a look around a junior suite, which is not as grand but is still very nice. The top suite spans an impressive 430 sq ft.
Even the regular cabins are spacious. You can book an interior, ocean view or balcony cabin on Balmoral. She also has single cabins for solo travellers. There are still a lot of ships that don't offer single rooms, so it's nice to see that Balmoral has this option. Cabin size varies from 130 sq ft (interior single) to 190 sq ft (superior balcony).
Pool areas
Balmoral has two reasonably sized swimming pools and several Jacuzzis. One pool is located at aft end of deck 7. When the weather is nice, passengers can make use of the nearby poolside dining area. It is also close to Palms Café, the ship's main buffet area.
The other pool is located in the centre of deck 11. Outdoor seating is plentiful, with tasteful sofa areas meaning you can relax in comfort. I often struggle to find comfy outdoor seating areas on big ships, so I really liked this space. I also loved the indoor/outdoor feel of the Marquee Bar, which you can enjoy even when it's raining outside. It features a glass roof, lots of large windows and it overlooks the pool area.
Bars and lounges
The ship has a number of bars and lounges, which are perfect for whiling away long sea days. Two areas really stood out for me. The first was the Observatory Lounge, which has a wall of picture windows. I could imagine sitting there in the evening with a cocktail. There are also lots of really nice small touches like the clear handrails and the twinkling star-effect lighting.
The second bar that stood out was the Lido Bar on deck 8. This has the feeling of an outside bar because of its magnificent glass windows and panoramic views over the aft end of the ship. This is the perfect spot for a pre-dinner drink and I can imagine it's really lovely in the evening. It is quite a small bar, but Fred. Olsen have made great use of the space. I also had a look around the Neptune Lounge and the Morning Light Pub, which both offer live entertainment.
Spa and fitness
You really feel as though you are entering a relaxation zone when approaching the spa on deck 10. You walk along a small corridor lined with windows to get to the reception area. The gym is compact but equipped with top of the range machinery and there are several rooms where you can enjoy an array of beauty treatments.
Conclusion:
Balmoral reminded me very much of the former P&O Cruises ships Canberra, Artemis and Victoria. Having sailed on the Canberra and Victoria when I was younger, I could see similarities in terms of layout and finish, but Balmoral obviously feels much more modern. My ship visit definitely busted my preconception about Fred. Olsen ships feeling dated.
Balmoral is incredibly well maintained and the fixtures and finish are of an extremely high standard. Fred. Olsen had a major overall of carpets and soft furnishings across the ship, which has resulted in immaculate public areas and I couldn't see signs of wear and tear. The crew were very friendly and the passengers that were on board seemed very content. Everything on the ship is priced in British pound sterling, which is what I am used to sailing with P&O Cruises.
I really loved Balmoral but she does cater for a more mature market, which could deter some younger cruise passengers. It is also worth me mentioning that there are no childcare facilities on board. The majority of her passengers are over fifty, so this facility isn't essential. I liked Balmoral's intimate environment and she has some great itineraries. I imagine she is a great ship for anyone wanting to get to know their fellow passengers, and perhaps make some new friends.
You can find out more about cruising with Fred. Olsen Cruise Lines, via their official website. Don't miss my other ship views, available to read here.
You can keep up to date with all of my latest blog posts by subscribing for updates at the top of this page. I post content on my social media channels daily. To make sure you don't miss out on exclusive photos and cruise news, you can follow me via the social links below.
Follow me on social media